KONSTANTA SOFOKLEOUS GRAVY PLANET Cyprus Pavilion - 51. Venice Biennale Arte, Italy
Curated by Chus Martinez. Organized by the Cyprus Ministry of Education and Culture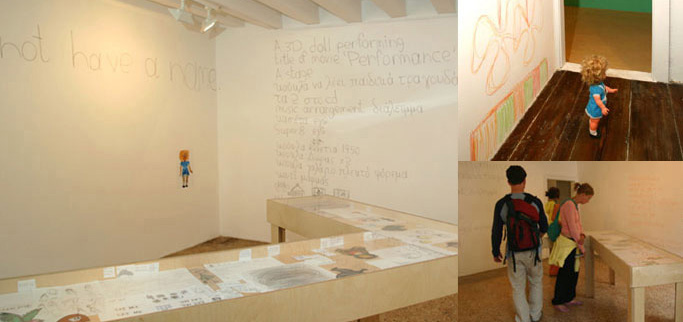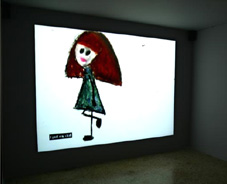 WORK EXHIBITED
"Popular Children's Poem". Video Animation and Drawings from the preproduction process
"Alice's Adventures in Wonderland". Video Animation and Drawings from the preproduction process
CATALOGUE TEXTS
'Who cares for you?' By Lars Bang Larsen
'In conversation'. Konstantia Sofokleous & Chus Martinez
REVIEWS 2006
Dall' oblio #12, Polumnia Writing, Netherlands. Je n'ai jamais vu d'édition d' Alice's Adventures in Wonderland sans illustrations. Les illustrations de Sofokleous sont, néanmoins, entièrement originales et bien choisies. La montre, par exemple, représente le Rabbit ...
2005
Lookout Magazine, Italy. Fuori dai Giardini e dall' Arsenale vi aspettano vere sorprese. Tipo: Kiki Smith ..., le bamboline disegnate da Konstantia Sofokleous al padiglione Cipro
2005
Art Post.Info, Canada. The Cyprus Pavilion
2005
Kunstbeeld Art Magazine, Netherlands. KB in Venezia #6, Presentatie Cyprus - Konstantia Sofokleous 1, - Konstantia Sofokleous 2,Kijken / kunstenaars
2005
Sekcja Art Magazine, Poland. 51. Venice Biennale, National Pavilions reviews, Cyprus
2005
Plumart Art Magazine, France. Un parcours féminin. Parmi les 90 artistes présents dans cette 51e biennale, nous avons choisi quelques femmes, artistes internationalement reconnues ou moins connues, ... Konstantia Sofokleous propose une installation qui mêle les références explicites à Alice aux Pays des Merveilles et à des contes d'enfants populaires ...
2005
International Contemporary Art Wales. Next exhibition, Gravy Planet from Cyprus, a small but powerful exhibition... an animated video by Konstantia Sofokleous expressing the influence of fairy stories on our psyche powerfully put across by the use of a child reciting a gory piece of a nursery rhyme where her doll had lost an eye, as an accompaniment to animated drawings.
2005
Philippe Dagen, Le Monde, France. Chypriotes et Lettons bousculent les grandes nations
PUBLICATIONS 2005 Participating Countries - Collateral Events. La Biennale di Venezia - 51. International Art Exhibition. Italy: Marsilio
2005 Gravy Planet, Cyprus in Venice. Biennale di Venezia - 51. International Exhibition of Contemporary Art. Revolver Verlag/Cyprus Ministry of Education and Culture
ARTICLES 2006 'Artist at the Biennale'.Clarion 173, University of Westminster Press, UK
2005 'Nine to five'. Interview by V. Georgiadou. Cosmopolitan Cyprus, no. 59
2005 'A Cartoon Story'. Article by M. Masoura. Madame Figaro Cyprus, no. 8
2005 'Chypriotes et Lettons bousculent les grandes nations'. Article by Ph. Dagen. Le Monde, France
2005 'Creating a New Space'. Article. Eleftherotypia newspaper, Greece
2005 'Gravy Planet'. Article. Politis newspaper, Cyprus
2005 'A World Drawing'. Article. Phileleftheros newspaper, Cyprus
2005 'Their Own New Space'. Article. Haravgi newspaper, Cyprus